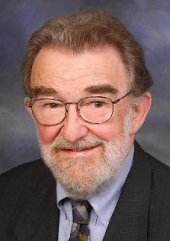 John Karr (1930-2016) co-founded the firm in July, 2000. In April, 2016, his remarkable life reached its end. His intellect, wisdom, compassion and wit made a lasting impression on all who knew him. He is dearly missed.

John Karr received his law degree from Georgetown University in 1958, and settled in Washington, D.C., where he tried lawsuits and argued appeals for more than 50 years. He served two four-year terms as a Commissioner of the District of Columbia Law Revision Commission; was a Director of the National Capital Area Civil Liberties Union and a member of its Litigation Screening Committee for a decade; was a Master (emeritus) of the Charles Fahy American Inn of Court; and serve as a member of the Judicial Conferences of the U. S. Court of Appeals for the D. C. Circuit and the District of Columbia Court of Appeals. He served a term as vice-chairman of the D. C. Democratic State Central Committee. He taught law as Adjunct Professor both at Antioch School of Law and American University's Washington College of Law, and he lectured about law and related notions at the U.S. Foreign Service Institute, Mount Vernon College, Purdue University, Middlebury College, Catholic University, the University of Wisconsin and for many years at continuing legal education seminars in Washington and Maryland.

He represented people charged criminally with most of the identified human frailties - from murder to being disorderly - and on both sides of civil disputes ranging from contract disputes and injuries to mind and body to violations of civil rights, human dignity, and common sense.

Early on he defended an alcoholic who became the first Washington defendant to be acquitted of crime on the defense that under the Durham rule, his alcoholism having been held to be a mental disease causing the crime. United States v. Clarence Arnold, (D.D.C. 1961). A glaucoma victim growing marijuana on his back porch was the first in the country to be acquitted on the argument that smoked marijuana was medically necessary to control his disease. United States v. Randall, Super. Ct., D.C. Crim. No. 65923-75 (Nov. 24, 1976), 104 Daily Wash. L. Rptr. 2249 (Dec 28, 1976), noted, 46 Geo. Wash. L. Rev. 273 (1978). He represented others whose race, gender, sexual orientation, religion, age, or economic status had been used to deny them rights assured by law. He persuaded a jury to hold that an international retail conglomerate had intentionally - and unlawfully - fired its 60-year-old security director because he was regarded as too old for the job, and got the verdict reinstated in an appeal from the trial judge's order setting it aside. Stacey v. Allied Stores Corporation, 768 F.2d 402; 38 Fair Empl. Prac. Cas. (BNA) 773 (D.C. Cir. 1985). For one client he won a landmark decision prohibiting the discharge of a government employee because of his sexual orientation, Norton v. Macy, 135 U.S. App. D.C. 214 (D.C. Cir. 1969), and successfully advocated another client's entitlement to recover earnings lost to a government agency's unlawful decision to deny him a security clearance because of his sexual preference. Tabler v. United States, 2 Cl. Ct. 474 (1983). He successfully argued that a young lawyer's employment application to the U. S. Department of Justice could not be rejected because she lived with a man to whom she was not married. Bishop v. Bell, 19 Empl. Prac. Dec. (CCH) P9131 (D.D.C. 1979).

He represented the American Samoan Delegate in a lawsuit in the High Court of American Samoa associated with a runoff election for his office, and drafted a constitution for American Samoa that was put to a referendum there.

He successfully defended the refusal of the founding administration and faculty of Federal City College (now, the University of the District of Columbia) to sign loyalty oaths, Haskett v. Washington, 294 F. Supp. 912 (D.D.C. 1968), and obtained an injunction which freed mail carriers to advocate a right to strike. National Association of Letter Carriers v. Blount (D.D.C. 1969). He won reemployment and 10 years of back pay for a probationary policeman who had been fired on the strength of an incorrect military medical record that branded him a bed wetter. Cooper v. District of Columbia (D.D.C. 1984). In another case, an appellate panel agreed that a federal judge's ruling should be reversed and reinstatement and back pay ordered for a policeman who was fired for protesting to Congress that Washington's police and fire fighters were underpaid. Tygrett v. Barry, 627 F.2d 1279 (D.C. Cir. 1980).

A federal district judge agreed with the contention of his client - a federal employees' union local - that President Nixon acted in violation of the Constitution when he decided to dismantle the federal government's principal social action agency, the Office of Economic Opportunity, and should be enjoined from doing so, Local 2677 v. Phillips(D.D.C. 1973), and eight years later he secured for that same client another injunction that blocked dismissals of poverty warriors then employed by OEO's successor, the Community Services Administration. Nat'l. Council of CSA Locals (AFGE) v. Schweiker (D.D.C. 1981).

He represented federal and local officials accused of straying too far from the political center, including an assortment of judges - two of whom challenged the constitutional legitimacy of judicial oversight by the D. C. Commission on Judicial Disabilities and Tenure,Washington v. District of Columbia Commission on Judicial Disabilities and Tenure (Super. Ct., D.C. 1973); Halleck v. Berliner, 427 F. Supp.1225 (D.D.C. 1977), and a federal judge in an impeachment proceeding. In The Matter of Alcee Lamar Hastings, in the U. S. Congress and Hastings v. Judicial Conference of the U. S., et al., 829 F.2d 91 (D.C. Cir. 1987).

When his clients, who were all of the employees of the Office of Juvenile Justice and Delinquency Prevention of the Department of Justice, were ordered to disclose discussions with their lawyers about an employment dispute, he persuaded a panel of appellate judges of the error of both the agency head who gave the order, and the district judge who agreed with it. Martin v. Lauer, 686 F. 2d 24 (D.C. Cir. 1982), on remand, 562 F. Supp. 503 (D.D.C. 1983), after remand, 740 F. 2d 36 (D. C. Cir. 1984). In Boston, he persuaded a jury to acquit a federal official accused of accepting a bribe, and literally left another jury laughing as charges against his client were dismissed by a federal judge in a case the government had characterized as a major sports gambling prosecution. He represented D.C. employees who were fired - unconstitutionally, they claimed - in the wake of a controversy between Congress and the D.C. government as to how finances of the nation's capital needed to be managed.

He has argued for religious rights for Black Hebrews, Roman Catholics, Quakers and Scientologists. E.g.,United States v. Napper, 553 F. Supp. 231 (E.D.N.Y.); O'Hare v. Andrus, 613 F. 2d 931 (D.C. Cir. 1979); Welch v. Simon, 498 F.2d 1060 (D.C. Cir. 1973). In O'Hare, as amicus curiae, he defended the Pope's right to celebrate Mass at the Washington Monument against a claim that to do so would violate the First Amendment's Establishment Clause, and in Welch, he secured for a Los Angeles Quaker the right to contribute money to the Canadian Friends Service Committee for purchase of medical supplies for Vietnamese war victims, a contribution then prohibited by federal law.

Under an amicus curiae appointment by the District of Columbia Court of Appeals, he successfully briefed and argued for abolition of a legal presumption favoring maternal custody of young children. Bazemore v. Davis, 394 A.2d 1377 (D.C. 1978) (en banc). Under an amicus curiae appointment by the Superior Court, he briefed and argued that anti-sodomy laws were religious proscriptions and thus unconstitutional under the First Amendment. United States v. Montalvo, Crim. No. __ (Super. Ct. D.C. 1972).

He persuaded juries to award $1.5 million to a high school student whose arm was crippled in a football game his coach made him play while injured; $1.3 million to a woman whose infant died as a result of a hospital nurse's failure to notice that the newborn had stopped breathing; and nearly $300,000 for harm to a postal clerk who was injured while working in a railway mail car.

His clients have included two University of the District of Columbia deans who were disciplined and demoted for protesting University policies which threatened academic freedom; lawyers and doctors in lawsuits and in disputes with their professional institutions and their disciplinary schemes; and businesses and preservationists in disputes with land developers. He tried, or prepared for trial, several claims of negligent psychotherapy on both sides of that issue.

He represented a law school and its co-deans in an effort to separate the law school and its pro bono law firm from its University and the effects of the latter's financial failures. In re Antioch University, 482 A.2d 133 (D.C. 1984).

Along the way he tried cases in state and federal courts in Vermont, Massachusetts, New York, New Jersey, Maryland, Virginia, Kentucky, Florida, and North and South Carolina, and has argued appeals in Maryland, Georgia and in U.S. Courts of Appeal for the Second, Third, Fourth, Eleventh, District of Columbia and Federal Circuits.

In an opinion published on April 8, 1992, a judge of the Superior Court of the District of Columbia described him as "highly experienced and skillful in the handling of complex commercial litigation. . . one of the leading trial lawyers in this city." Johns v. Viorst, (Super. Ct., D.C. 1992). Eleven years earlier, four judges of the District of Columbia Court of Appeals published his client's brief as their dissenting opinion, with this comment: "Petitioner's counsel has filed a forceful petition, marshaling a substantial body of authority for our consideration. I set it forth below as the best way of demonstrating the importance of the issue the en banc court declines to consider." Ivy v. Army Times Publ. Co., 428 A.2d 831 (D.C. 1981).


---